WELCOME TO Wood City Riders 
Snowmobile Club
Thank you for visiting our webpage!
Posted: 02/20/2020 08:40 am
Status: Open
Condition: Good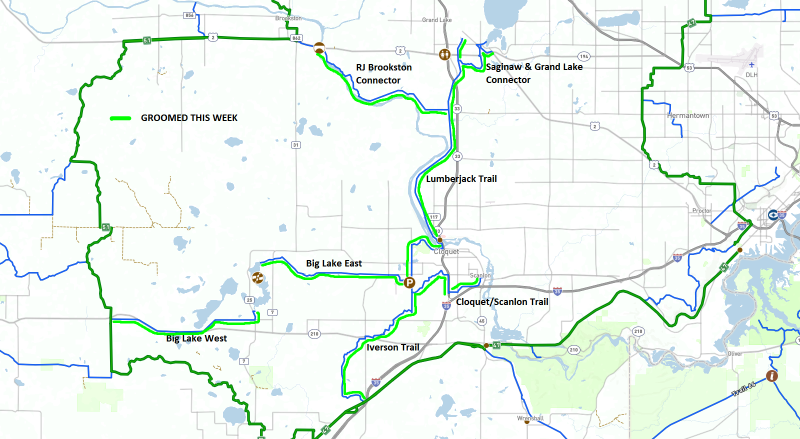 WCR Trail Report 2-2-20
Wood City Riders Trail Report – February 20, 2020
Cloquet Minnesota
Our trail system is fully groomed this week and is ready for the weekend traffic.  There are a few icy spots and icy corners, and the trail has been very hard due to cold conditions.  Work crews are out on the system during the day doing maintenance and brushing – please ride with caution and slow down if you encounter them.
Lumberjack Trail, RJ Brookston Connector and Saginaw/Grand Lake Spur:
 These trail segments are all groomed and are in excellent shape 
Iverson Trail:
The Iverson is now fully groomed and is in good shape. 
Big Lake Trail East:
The BL East trail is groomed and is in good shape.
Big Lake Trail West:
BL West has been groomed and is in good shape.  Use caution crossing Big Lake there are ice house remnants, plowed roads and drifting.
Scanlon/City of Cloquet Trail:
Trail has been fully groomed and is in good shape.
All water crossings on the system including Big Lake and the St Louis River @ Hwy 2 are not checked or staked by the club.  Please stay on the packed tracks, watch for hazards and maintain a safe speed!
Ride Right, Ride Safe, Ride Sober!
Wood City Riders
Latest Events
February General Membership Meeting 7pm Northeastern Saloon
Thu, Feb 27th, 2020 7:00PM
Latest News
Fri, Nov 08th, 2019 | Wood City Riders
New Iverson Trail Bridge Complete!
WCR Club Completes Major Bridge Replacement - Oct 2019
Read More...