Trail Reports
Posted: 03/31/2022 09:59 am
Status: Closed
Condition: Closed
Closed for the Season
As of tonight our trail system is officially closed for this season.  Many thanks to those who volunteered to make it a great one!  See you December 1st!
Posted: 01/27/2022 10:57 pm
Status: Open
Condition: Good
Check Facebook Page
Please check our Facebook page
www.facebook.com/woodcityriders
for the most up to date trail conditions
Posted: 01/13/2022 09:25 pm
Status: Open
Condition: Fair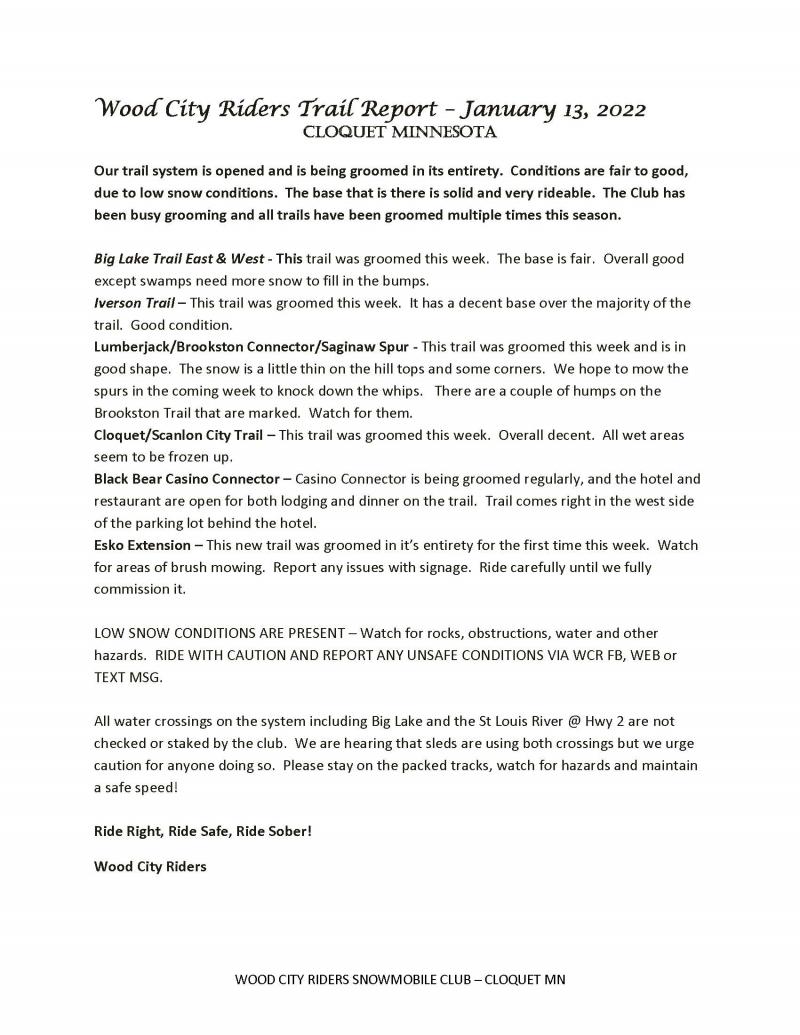 Trail Report January 13 2022
Wood City Riders Trail Report – January 13, 2022
Cloquet Minnesota
Our trail system is opened and is being groomed in its entirety.  Conditions are fair to good, due to low snow conditions.  The base that is there is solid and very rideable.  The Club has been busy grooming and all trails have been groomed multiple times this season. 
Big Lake Trail East & West - This trail was groomed this week.  The base is fair.  Overall good except swamps need more snow to fill in the bumps.
Iverson Trail – This trail was groomed this week.  It has a decent base over the majority of the trail.  Good condition.
Lumberjack/Brookston Connector/Saginaw Spur - This trail was groomed this week and is in good shape.  The snow is a little thin on the hill tops and some corners.  We hope to mow the spurs in the coming week to knock down the whips.   There are a couple of humps on the Brookston Trail that are marked.  Watch for them. 
Cloquet/Scanlon City Trail – This trail was groomed this week.  Overall decent.  All wet areas seem to be frozen up. 
Black Bear Casino Connector – Casino Connector is being groomed regularly, and the hotel and restaurant are open for both lodging and dinner on the trail.  Trail comes right in the west side of the parking lot behind the hotel.
Esko Extension – This new trail was groomed in it's entirety for the first time this week.  Watch for areas of brush mowing.  Report any issues with signage.  Ride carefully until we fully commission it.
LOW SNOW CONDITIONS ARE PRESENT – Watch for rocks, obstructions, water and other hazards.  RIDE WITH CAUTION AND REPORT ANY UNSAFE CONDITIONS VIA WCR FB, WEB or TEXT MSG.
All water crossings on the system including Big Lake and the St Louis River @ Hwy 2 are not checked or staked by the club.  We are hearing that sleds are using both crossings but we urge caution for anyone doing so.  Please stay on the packed tracks, watch for hazards and maintain a safe speed!
Ride Right, Ride Safe, Ride Sober!
Wood City Riders